Bringing Jack to life in the digital world.
The Problem
Jack Box is the CEO of Jack in the Box. Confused? You shouldn't be. The "Jack" campaign is one of the longest-living (and most heralded) campaigns in advertising history. And, honestly, that presented a challenge. For most of the campaign, Jack's digital presence had been a bit of an afterthought—a place where Jack's greatness was largely unrecognized. Couple that with an outdated mobile-unfriendly website and we had some serious work to do.
Challengers, Fans and Foodies
Knowing that the biggest Jack in the Box fans are always looking for something unique (seasoned curly fries, mini churros, tacos), our strategic insights focused on unexpected content and mobile-first engagement. Over the last seven years, we've worked with other agency partners and a killer in-house team to deliver online experiences that range from truly weird (9 Circles of Hella-Peño) to quietly efficient (streamlined menu and email functionality).
Matt Anderson, CEO / Struck
Did you know that almost 90% of Millennials sleep with their phones? Always connected means ALWAYS.
What We Do
Digital Strategy
UX/UI Design
Site Maintenance
Optimization
Analytics
Favorite Menu Items
Mini Churros
Sourdough Jack
Curly Fries
Mini Corndogs (seasonal)
Classic Buttery Jack
Giving fast-food lovers and Millennials the experiences and content they crave.
Let's Get (Strategically) Weird
Strategic guardrails firmly in place, we worked to build a series of digital experiences that engaged fans wherever they were. Custom interactions for mobile/touch devices. Deeper content dives on Jack's site. Social integrations and digital Easter eggs. A mobile-first design approach. Dozens of digital campaigns. Hundreds of targeted, responsive emails. More banners and paid media executions than we ever thought possible. Digital video. Social content. Soooo many animated GIFs. A brand-new Tumblr launch. 102 Vines in five days. It's strategic chaos, tailored to the appetites and behaviors of fast-food lovers.
Aware of the always-on appetites of Jack's biggest fans, our latest work has focused on consumer engagement and digital conversion through jackinthebox.com. Big initiatives include online ordering, delivery integration and a CRM platform to help satisfy personal cravings around the clock.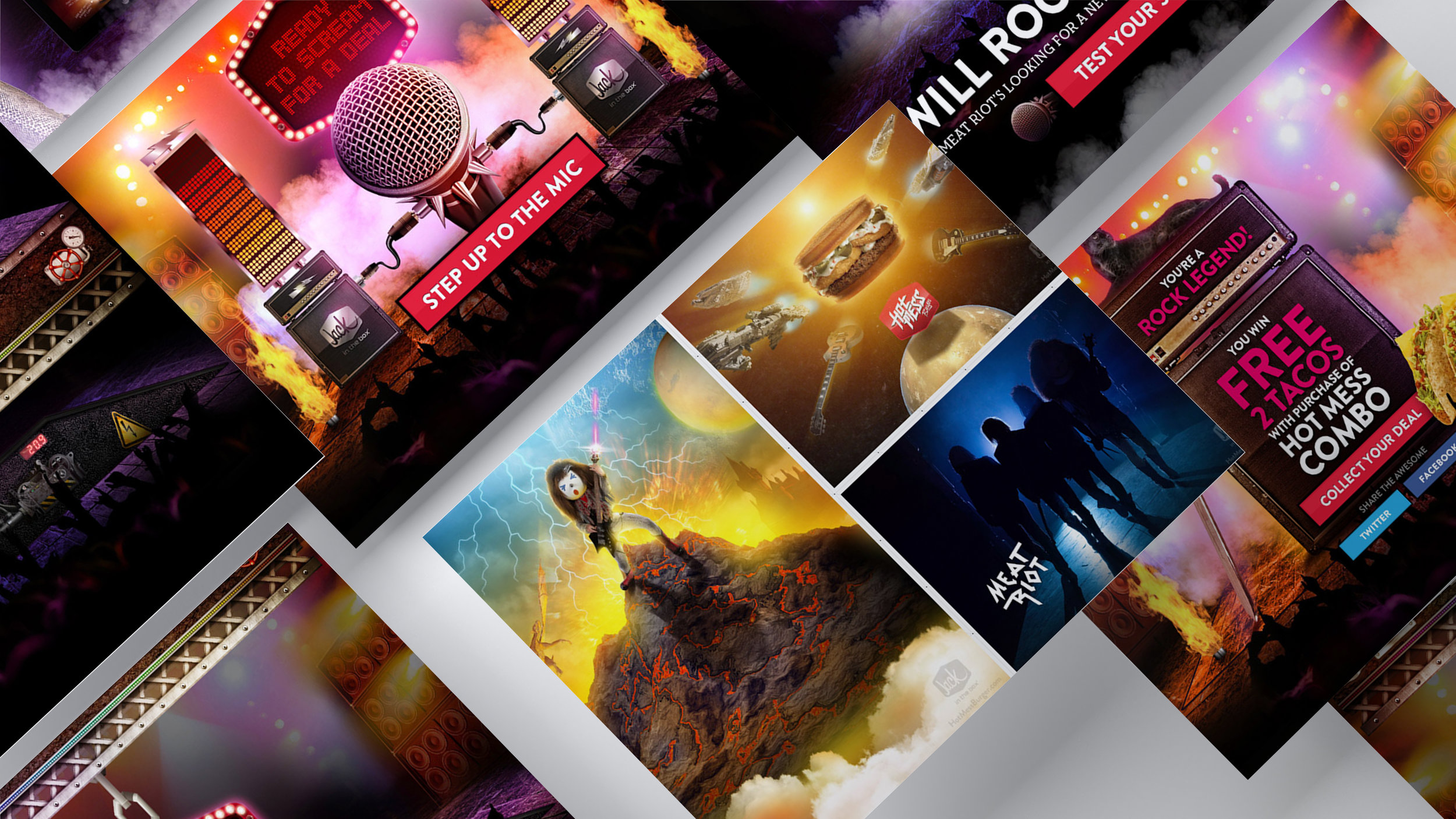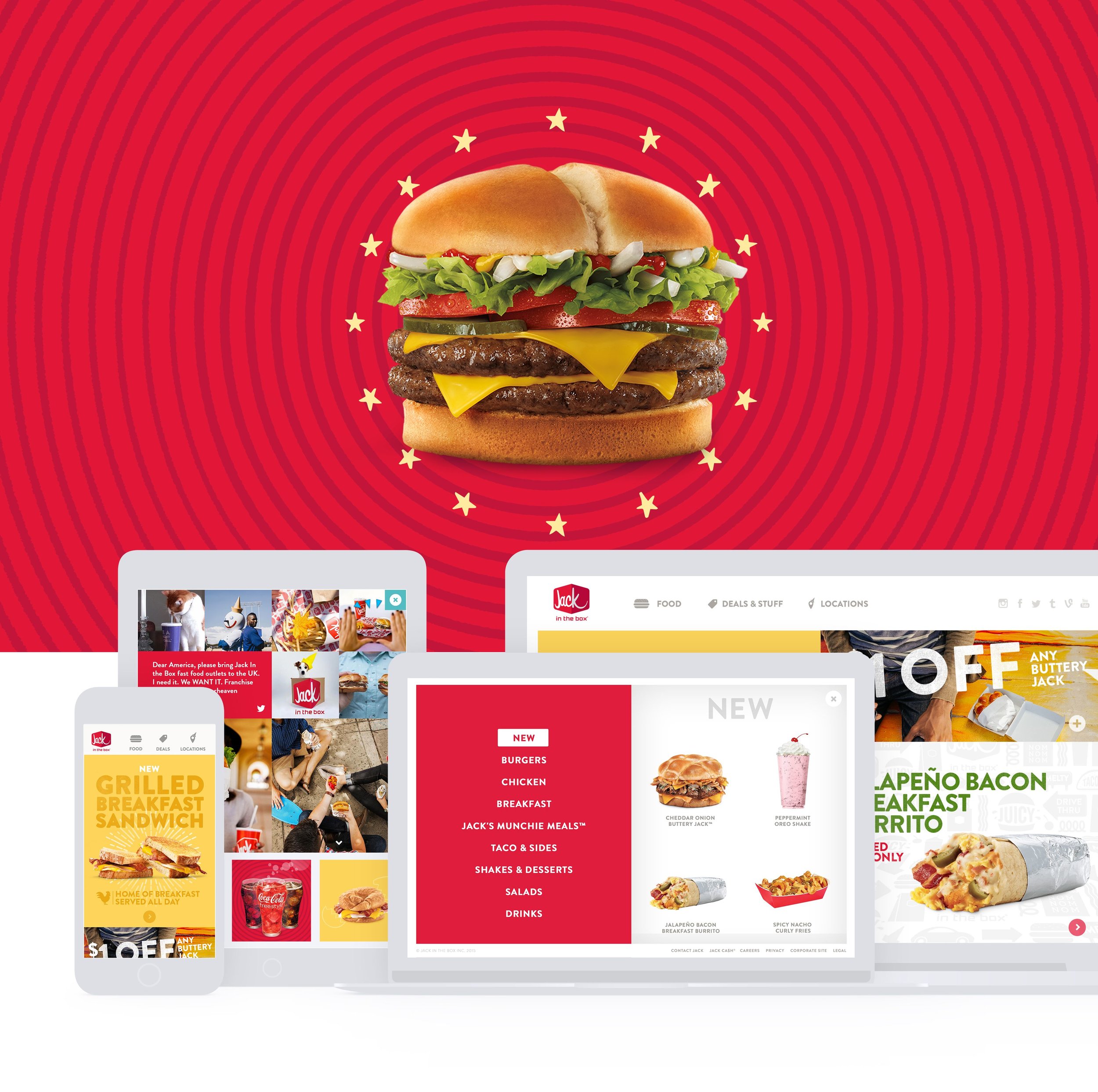 The shifting tides of digital engagement.
A Year Is A Lifetime
In less than a decade we've seen digital engagement patterns flipped upside down. More than 60% of visitors to jackinthebox.com were on desktop computers—now, more than 75% visit the site on their mobile devices. Keeping up with shifts and trends requires custom reporting and a thorough approach to analytics and optimization.
225%
Increase in organic search traffic.
49%
Increase in mobile traffic.
30%
Of mobile visitors complete a location search.