How do you help a destination with "something for everyone" move forward with focus and confidence?
The Problem
Worried that travelers no longer found appeal in its distinctive desert setting, Scottsdale, Arizona's marketing efforts had turned apologetic ("yes, it's hot here, but at least it's a dry heat!") and often disingenuous. The brand had further overcompensated by expanding its focus wide enough to encompass a "something for everyone" attitude. And that attitude, of course, really says nothing at all.
Our Approach
Starting with the travel research experts (and long-time collaborators) at SMARI, our first goal was to understand what visitors really wanted to experience when they arrived in Arizona. The simple truth was that they wanted a blend of relaxation and adventure—an insight that guided our teams toward a brand and campaign strategy focused on the revitalization that Scottsdale offers.
Machel Devin, Client Partner / Struck
Research showed that regardless of their age, Scottsdale travelers were looking for neither total spa serenity nor full throttle adventure.
What We've Done
Strategy
Positioning
Brand Identity
UX/UI Design
Advertising
Digital Engagement
Other Words for "Hot"
Scorching
Smoking
Caliente
Boiling
Sizzling
Scott Sorenson
No matter what they crave, give every visitor a feeling of effortless revitalization.
What A Traveler Wants
Few people go on vacation hoping only for leisurely relaxation, or seeking only breathless excitement. They expect both in varying amounts, all wrapped up in a one-of-a-kind setting. The unexpected vibrancy and uncommon ease of Scottsdale's desert experience offers visitors a chance to quicken their pulse without breaking a sweat.
Delivering The Heat
With a stunning and flexible new brand identity that incorporates modern type and a minimalist agave plant, Experience Scottsdale embraced its new positioning an stopped apologizing for what had previously been seen as shortcomings. A new campaign even embraces the dry heat and takes things a step further, declaring that it isn't just hot in Scottsdale... It's absolutely scorching.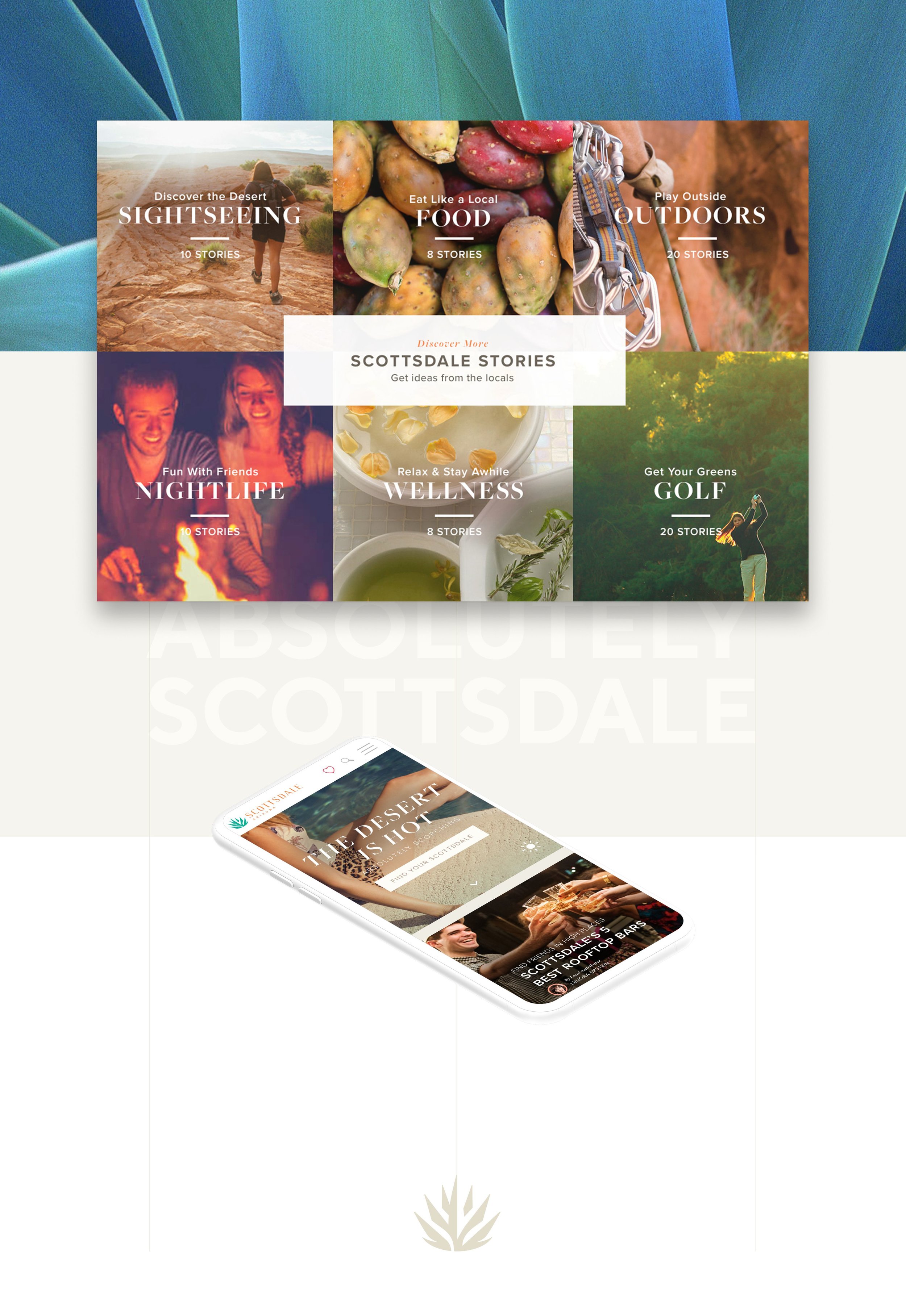 The Results Of A Great Partnership
Working Together Works
Experience Scottsdale has a strong, capable and creative in-house team—people who bring out the best in their partners. We scribbled on post-its and drew all over the walls. We knocked down barriers and shared a few drinks. In the end, our good friend Caroline Stoeckel (VP of Marketing at Experience Scottsdale) said it best: "The end result only confirms that Struck was the right partner for this important project." Thanks, Caroline. Let's do it again soon.
$229 million
Of direct economic impact to
Scottsdale as a result of the campaign.
857,297
Incremental trips to Scottsdale
as a result of the campaign.
$67
Return on investment—visitor spending (and $3 in
local tax revenue) for every $1 spent on advertising.
27%
Increase in visitor intent for
Millennials (age 25-34)
26%
Increase in visitor intent
for Gen-Xers (age 35-54)
21%
Increase in visitor intent
for Baby Boomers (age 55+)