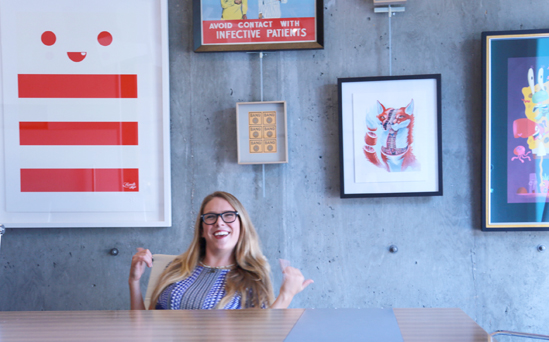 Grace. Where do I start… I feel like interns are most often associated with constant time management and monotonous tasks. You're busy, you need their help and also want to make their internship worthwhile by sharing your craft with them, but so much time is spent managing tasks and projects it becomes a detriment to both of you. 
However, this is not the case with Grace. Her colorful personality, coupled with her ambitious attitude and ability to efficiently manage her workload, make her the type of intern you dream of. What really makes her shine though is how she naturally became one of the team, immersing herself in our culture, which is not always easy to do. I mean, if you can befriend Pixel Panther you know you've made it. (Sorry Dave, I had to…)
Anyways, time flew by, as it always does, and here we are in August with Grace heading back to school. Before she left we had to know what she was going to relate her Struck experience to this time. Last year we were  Seabiscuit and I was truly curious what she would peg us as this time. Of course she didn't let us down. This go-round we have transcended the legendary racehorse and now embody Voltron.
You see, this is why I love Grace. Keep reading and you may just fall in love with her too:
As a repeat summer intern for Struck, it was déjà vu when I was asked to write a blog post to wrap up my time with the creative agency that stole my heart. Last year I likened Struck to a powerful racehorse, graceful and unbeatable. How was I supposed to top the imagery of Seabiscut this year?  I was having a hard time finding something to compare Struck to this time, so I bribed Dave Bunnel with some green apple Hi-Chews to help me out. Turns out Hi-Chews have a mystical power because Dave introduced me to the perfect combination of my favorite things: retro anime, teamwork, and rocket-powered big cats. Without him I wouldn't have found the perfect image that illustrates Struck to a tee: Voltron. Now if you're like me and happen to be uneducated in the awesomeness of this OG Power Rangers, you should check this out. 


Pretty sweet, right?

Like the black, red, green, blue, and yellow lions combine to become a giant super lion-appendaged robot that protects the planet from evil; Struck combines it's creative, advertising, design, technical, and strategy forces to create such a powerful brand experience that they might well save the world from the forces of bad marketing.

I was once again graced with the opportunity to join the team, and I used this as a chance to draw on everything I learned from my time as Pauline's shadow. Armed with an arsenal of business appropriate dresses, a list of all the Strucker's names and photos, and lemon sweet tea from my favorite glass office mug, I joined the Strategy team to research everything from light bulbs to weddings to organic hams. I walked into the office every morning with the goal to save the world and while I wasn't a robot-lion fighting evil, I was lucky enough to witness the ways Struck transforms the brands that walk through its doors. I never realized how much thought and effort goes into simple brand decisions and I was quickly educated in the inner working of the well-oiled machine Struck is.

I can't express how grateful I am to have met the kind, intelligent, welcoming, and creative people at Struck and to have worked alongside them. If it wasn't for Tosh calling me Horse Whisperer, Stevie helping me navigate the Struck server every day, and Scott actually using my name, I wouldn't have felt as at home in the brightly colored office as I do now. I'm going to miss Chelsie and Susan greeting me every morning, the smell of Brent's cologne as he went back and forth past my desk and his creativity permeating every room he entered. I'll miss having a tech master like Jon to help me with every Mac related question I had, and constantly stopping by Jennifer's desk or emailing Ben for advice, assignments and discussions about what I was discovering in my research. Glancing up from my keyboard to have Pauline and Jeff right across from my desk gave me inspiration to work hard and succeed. I got to work with all the wonderful people of Struck who are the best role models I could ask for.

I'll hopefully see the wonderful people of Struck next summer, and in the meantime I'll take everything I learned and apply it to becoming a robot-lion set on saving the world.