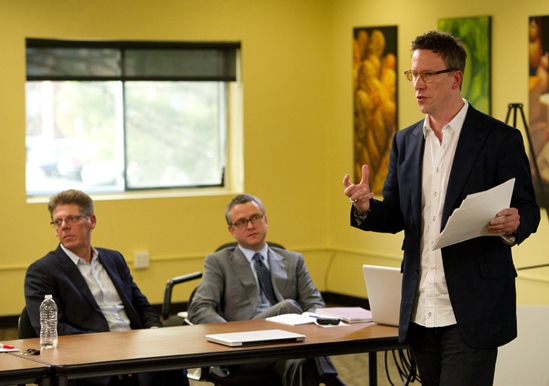 Well. I finally saw The Pitch last night and I (like some others) feel compelled to post some thoughts. So, here we go. Apart from the show's obvious editing-for-dramatic-effect, there were more than a few realities in AMC's latest reality show.
Reality 1: Of the two agencies enlisted for this showdown, one had an original concept that, though slightly uncomfortable, was probably right for the target audience. The other didn't have much. Just an "inspired-by" idea and presentational—yeah, I'm just gonna say it—gimmick.
Reality 2: *SPOILER ALERT* The client, for an unseen/unexplained reason, chose the agency with the unoriginal concept.
Reality 3: I wasn't surprised. As the new biz guy here at Struck, I've heard these exact words: "You won the pitch, but we're giving the business to someone else. We're too chicken to go with your idea." As we saw in full living color, the better concept isn't always the winner.
Reality 4: I'm grateful to have clients who *get it* and who have recognized cool, original ideas from the moment they were pitched. And I'm thankful that I work for an agency that really puts things like smarts, guts, craft, openness and solidarity in the forefront.
Will I watch The Pitch again? Probably. I'll be taking plenty of mental notes, recognizing the realities… and praying that not every episode ends with agencies presenting snoozer TV spots.