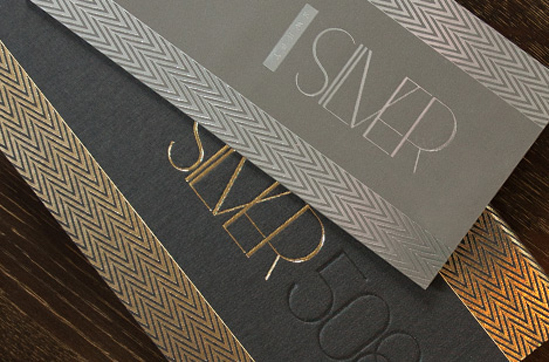 The only thing better than working on SILVER is sitting down in the final product and seeing all of our work in its environment. SILVER's design evolved from classic art movements and modern trends that resulted in a bold, fluid and delicious statement on Park City's Main Street. This is an expansion of our process, from the very beginnings of a new restaurant idea, to the beautiful finish of SILVER.
The Beginnings
Lisa Barlow, a New York native and co-owner of Vida Tequila had a vision to create a new restaurant in Park City that would "celebrate friendships, lounge in style, enjoy productive business chatter and experience New York and European energy… all while listening to great music and indulging in the best eats."
She brought her vision to StruckAxiom, along with architectural designs from the Rockwell Group and asked us to build a brand for her restaurant.
The Vision
Lisa's vision was far different from Park City's typically mountainous, rugged, and tavern-ish vibe. She saw a classic, a refined and a smart atmosphere within the historic city.
She wanted something visual, even fashionable in the grandeur of the mountains. She wanted something high-end, intelligent, and contemporary. A place that captured the ambiance of New York and Europe. A place where you could get refined food, a live DJ, and a cocktail. Such a place was absent on Main Street. Lisa called this vision, SILVER.
SILVER was to give a gentle nod to Park City's legacy as a booming silver mining town with modern irreverence. The building's original tenant, the Marsac Silver Mining Company is still strongly present—from the original elevator shaft that links all three floors of the restaurant to the glass walls etched with a pattern of liquid silver veins.
Rockwell Group's architectural design of heavy geometric and slightly whimsical patterns had been sent to us, along with their strong recommendation to use Cobalt Blue as a highlight for the restaurant's look.
Setting the Mood
Understanding Lisa's direction—and motivated by such an open canvas—we started by aggregating images, typefaces, patterns, and logos to identify the correct tone. Among many inspirations, we were all drawn to a certain series of F. Scott Fitzgerald books.
That sparked our creativity. We began playing with the classic and timeless Art Deco movement. We moved into san motifs and other trends along the Art Deco lines. From there we added new approaches, we played with geometric shapes that were also fluid in style. Falling in love with this combination, we started designing logos inspired by our "Neo-Deco" styles.
The Logo
Our love of Neo-Deco could not overshadow the tradition and inspiration of Park City. We presented dozens of logos—some traditional, some modern, and some that were an awkward blend of the two.
Lisa was immediately drawn to our Neo-Deco interpretations, and when she came across option 15 she knew she'd found her mark.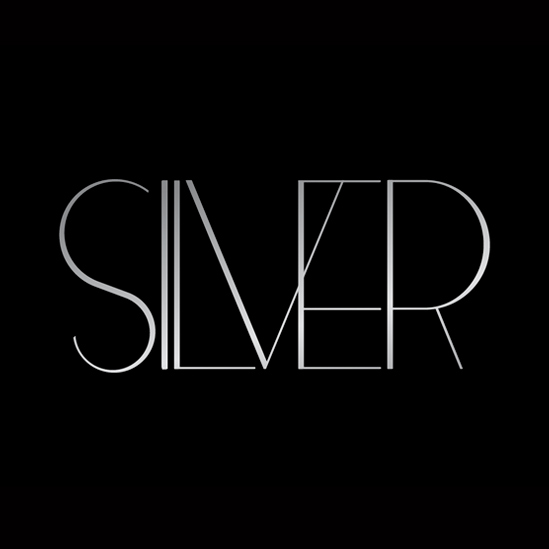 Completing the Brand
We were on a quest to hone our Neo-Deco style with a strict set of considerations: classic, but modern; sophisticated but never clichéd; fashion-forward but effortless fashionable.
Our solution: Match black and metallic foils with cobalt blue and  create patterns that (again) had geometrical fluidity. As we translated these designs across the restaurant's collateral, we also added the periodic symbol for Silver inside many elements as a nod to the smarts and sophistication of both SILVER and its audience.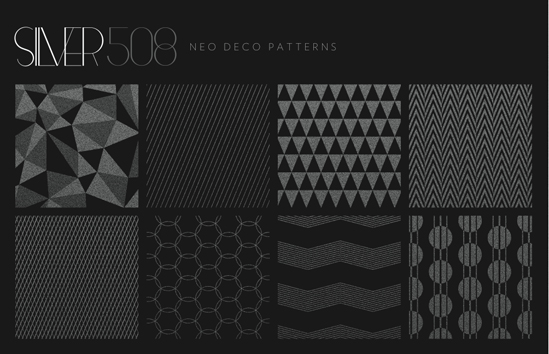 We then brought these two dimensional patterns into 3D. Using Cinema4D, our interactive team had a good time making renderings into what would be eventually become the signage on Main Street.
Production
Perhaps the most challenging aspect of this project was crafting unique materials without overwhelming the audience—or going beyond the budget. Our production team delivered custom die lines, scores and folding, metallic foils, clear foils, spot varnishes, embossing, and de-bossing with the elegance, simplicity, and fashion to elevate the SILVER brand as a high-end restaurant and bar.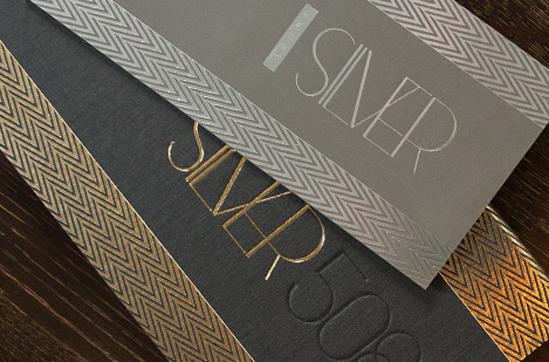 Opening SILVER
Over the course of production and design it was decided that SILVER would open the same day of the Sundance Film Festival. SILVER quickly caught the attention of high-profile celebrities by only allowing private parties to enjoy the newest restaurant in Park City. This resulted in a flood of attention, appreciation, and memorable events.
SILVER hosted Playstation3's Green Room, a place where high-profile figures could sample and preview Sony's latest innovation in infrared gaming and 3D technology. InStyle Magazine also hosted an event capturing the style of Sundance, marking SILVER as a go-to fashion venue.
Dozens of the festival's biggest celebrities visited SILVER, heaping praise, driving news coverage and inspiring rave reviews. SILVER was quickly labeled the "it" for Sundance celebrities and other discerning festival goers. See some of the A-list photos here.