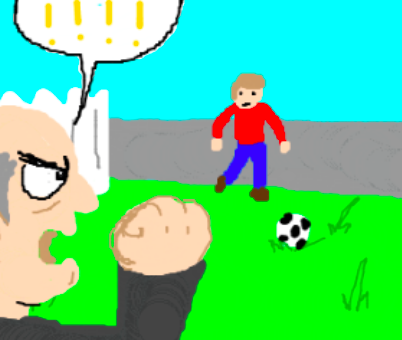 Cue up the "get off my lawn" mood – we need to talk social media. I've been in digital marketing since 2000, so I'm definitely a geezer by many definitions. But that means the early part of my career was defined by traditional brand advertising, where you had exactly 4 mediums to advertise in (radio, TV, out of home, print). It was a simpler and less-fragmented world, but it also shaped my point of view for years to come on realistic ways to build brands. Then about five to six years ago, a groundswell of buzz (how's THAT for some lingo?) started around social media. media and evangelists were touting it as the next great thing, the equalizer for all brands, the great driver of the economy … THE SILVER F'IN BULLET!
Don't get me wrong, social media has done wonderful things. It's given voice to people with great ideas that need backing. It's connected people on so many levels for their career, their friendships, their romances. But what it hasn't done, is be the be-all, end-all for brands. Brands approached this new world with trepidation, which was made worse by "social media strategists" insisting that only they could guide them through the weeds. These "specialists" (who likely had only been in business for 2-3 years) made clients even more leery and cautious, feeling only a self-proclaimed "guru" could help them navigate and that this medium demanded its own particular approach. Brands were trained to think that if they went alone, they'd be doomed to fail, their business would collapse and the internet would implode upon itself. /hyperbole
A very smart man, Augie Ray, wrote a great article here about this specific topic. The upshot of the article, even brands with spectacular social media "flame-outs" are doing just fine, financially, thank you very much.
You know what all these brands really should have focused on? The good old Golden Rule … "do unto others." That's it. Treat people as you'd like to be treated, and you'll do fine on social media, particularly if you're realistic about how your audience is truly willing to interact with your brand.
Alright cranky guy, are there brands following this advice and doing well? I'm so glad you asked – there absolutely is. Of course these are all my opinions, but as a cranky old ad guy, I feel entitled to get up on a soapbox:
GE/Instagram – an amazing example of taking a platform and a seemingly uninteresting product line and making it work extremely well. They don't try to do too much, but do just enough to keep people coming back.
Delta on Twitter – One of many examples of getting the most out of an "engagement" channel and actually providing value back to their audience.
And who's failing? Well, pretty much any brand or entity foisting a hashtag on their followers, expecting it to be used "organically." Let's list just a few, shall we: #myNYPD, #McDstories, #RIMjobs, #WTFF. It's sad to say, but one can sit back and watch brands fail on social media pretty much every day of the week, likely doing so on the advice of these "gurus."
So, that silver bullet that social media was going to become, allowing message magnification for free and exponential audiences … not really working out as expected. Facebook, Twitter, Instagram, Vine and more are all implementing monetization models, acting more and more like TV, radio and print (you know, the "old school"), developing content with brands subsidizing content delivery in the hopes of getting their message in front of the right person at the right time. Hakuna matata, no? So there is no need for a social media specialist. Find people that are incredibly good at telling your brand story regardless of the medium.
You wouldn't pay a "TV specialist" to dole out advice solely on broadcast advertising advice, would you?
/rant