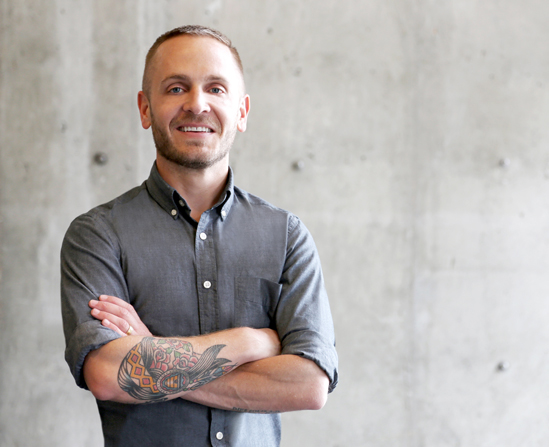 We're all pretty excited over here at Struck for Kevin Perry, our resource manager, who has been named to GD USA's 2014 People to Watch list. Kevin keeps us all in line on the daily, but is also a talented designer who has been in the industry for the last 14 years. He is actively involved with the AIGA as a national board member, was recently President of the AIGA SLC chapter, cofounded Salt Lake Design Week and currently teaches at the University of Utah, among other things. Needless to say, he's a busy guy!
Check him out on GD USA and see what he has to say about the state of graphic design:
I feel optimistic about the future of design. The only thing constant in the design industry is change. That's why it's so exciting. Every day, design is more and more the topic of conversation. Kickstarter. Our devices. Healthcare. Design awareness is at an all-time high. As designers, we continue to evolve. The new designer thinks much more strategically than ever before. The craft will always remain an important part of our process, but we now create solutions in many different forms, including intangible items like experiences. Our process has also shifted from mass communication to something more personal. It's more important than ever for us to have empathy so we can customize messages to specific audiences. As society becomes more aware of the value of design, we are seeing success with clients who recognize that design is no longer a service that comes at the end of the process. Designers are most effective as thought leaders when we can work collaboratively to solve complex problems. At Struck, we observe these trends and the ever-changing needs of our clients. We have evolved from a traditional agency to one that is insight-driven and multi-disciplinary by adding expertise in strategy, digital innovation and design expertise. We embrace the move toward co-creation, collaboration and integrative design.